Deck Staining Experts in Fayetteville NC
A wooden deck creates an outdoor living space that can add tremendous value to your home. However, the wooden deck can deteriorate over time due to being exposed to the weather.
By hiring Painters In NC to repaint your deck, you can transform your deck into an enjoyable space once again.
Painting a deck can be a challenging endeavor, so it is suggested that you hire a professional company with experience like
Fayetteville NC Painters
.
Here at Painters In NC, we have the experience necessary to make your deck painting project successful.
We are a local painting company that specializes in interior, cabinet, and exterior painting services such as deck painting.
Call us today and get your deck staining Fayetteville NC quote today!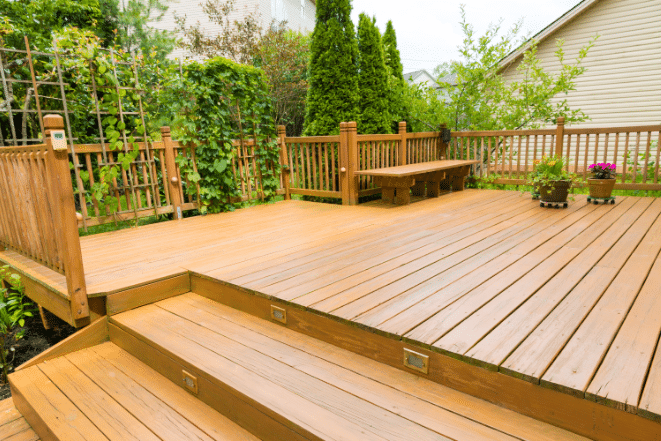 Why Choose Painters In NC?
At Painters In NC, we firmly believe in providing the best services possible.

LIcensed and Insured
We understand the risk you take by hiring someone to work inside your home. That's why we maintain all of the necessary licenses and insurance policies – to give you peace of mind.
Locally Owned
Unlike the national corporations, we are a local business. We have been serving the Fayetteville area for several years now.
High quality
You are investing your money and energy into this project, so we understand that you have high expectations! Our philosophy is to provide the best experience possible!

On-time everytime
We know that it's important to get your painting project completed as soon as possible. That's why we make sure to show up on time to get the work done in an efficient manner.
Affordable
You will not find a better price to match the high quality services we provide!
Highest rated
We have completed many painting projects over the years. With those jobs, we have gained an expert level understanding, and we have also gained many loyal customers.
Our deck staining process
Initial consultation
After you schedule your free estimate, we will come to your home to evaluate your needs. We will consult you on the project details including the total cost, how long it will take to complete, the steps for completing the project, and the best paint selection.
Cleaning
Your deck will likely need to be pressure washed before repainting. No worries, we can provide that service as well!
Scrape and Sand
Any remaining paint will then be scraped and sanded from the surface of the wood. This ensures that the new paint layer will be applied evenly.
Protect: Using painters tape and plastic sheeting, we will cover the exposed areas that you do not wish to be painted.
Repair
Inspect the wood once again to make minor repairs to the deck. Some screws/nails may need to be replaced as well.
Stain
This is the last step in the process. We have experience staining many decks, so you can rest assured you'll be receiving a top-quality job. Our deck staining Fayetteville NC technicians are highly skilled! Your newly painted deck is going to look amazing!
We at Painters In NC take pride in our work. We are confident that, by hiring us, you are making an excellent decision in the process of improving your home through deck repainting.
Our goal is to offer results that truly "wow" you, while also providing high quality customer service.