Interior House Painters in Fayetteville NC
Looking for interior painting Fayetteville NC experts? The interior of your home should create an atmosphere you enjoy. It should make you feel comfortable and at peace. By choosing the proper paint color for your home interior, you can create that desired outcome. You may be asking yourself questions like:
"Who are the best interior our painters near me?"
"What is the cost to paint interior walls?"
"How do I choose a paint color for my living room?"
Here at Painters In NC, we are happy to work with you and answer all of your questions and find the perfect color for your project. Our interior painting Fayetteville Painting Company services are top-notch, and we have many happy clients. Every job starts with a consultation with the customer, to ensure that the best color selection has been chosen. Once the proper color has been decided on, we quickly get to work to transform your home.
Our goal is to make you feel comfortable and excited about your newly painted home. We offer fully transparent pricing, and are licensed and insured – this way you can feel confident that you are receiving the best service possible, while also being protected from risks. We understand the hesitation to hire a contractor to work on your home, so we strive to make you feel at ease and confident that you will be satisfied with the results. Our interior painting Fayetteville NC experts are very experienced, so you will be receiving high quality workmanship.
Our Interior house painting services include:
Hallway and Staircase Painting
Kid's Room & Nursery Painting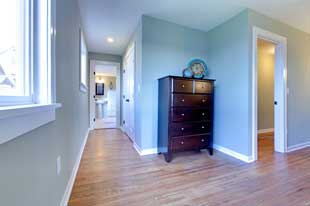 Our house painting process
Color consultation
During your in-person estimate, we will provide you will a complete quote of what it will take to complete your interiorhouse painting project. This will also include a color consultation. We are here to help you make your home look as great as possible!
Set up
It's time to complete your painting project! In order to get things set up, we will move furniture to the center of the room, complete any taping that needs done, and cover the furniture and floors with drop cloths and plastic sheeting.
Preparation
We will then fill any holes in the wall or ceiling, and sand down any areas that need it.
Painting
Next, we apply the high-quality paint that you've selected for your project. Watch as your home is transformed!
Cleaning
After the painting is complete, we make sure to clean up the area by vacuuming, sweeping, and putting back furnishing where they belong.
Inspection
When the painting and cleaning is complete, we invite you to inspect the painting to make sure you are completely satisfied!